BANDING WITH MANUEL
IN VERACRUZ, MEXICO
Text and photos by Mark Habdas



My flight from Vancouver to Mexico City on the 13th of the month with a great number of empty seats was quite comfortable. Even more comfortable was the overnight ADO Platino bus, which took me to Minatitlan, a small, not very attractive town in the province of Veracruz. Manuel was waiting for me with a smile, and drove me to the banders' headquarters, an unfurnished four- bedroom house in the centre of town. After a short unpacking he drove me straight to the banding station located next to the local oil refinery. To pass the guarded gate, I had to change into navy-blue overalls and boots.
The local refinery is the main employer for Minatitlan's population. Fifteen years ago, failure of outdated 80-year-old equipment caused a major oil spill.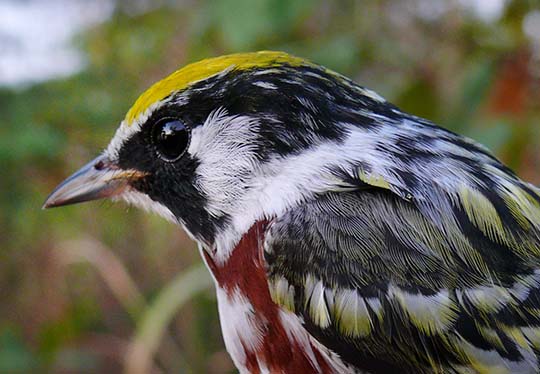 Chesnut-sided Warbler

Thirty percent of the 800 hectares of marshes surrounding the refinery, an area rich in wildlife, was contaminated by crude oil. Only three years ago the Mexican government ordered the refinery to begin cleaning up the contaminated area. This work is still in progress, with many hectares still awaiting clean-up.
Money for environmental research was allocated in 2008. At this point, Pemex refinery took the initiative to start bird monitoring, and in October 2010 a full-time, year-round banding station was established with Manuel Grosselet as master bander in charge. The station monitors spring and fall migration, as well as winter survivorship and is one of a kind. Since start-up six months ago, over 128 species and 10 000 birds have been banded, and 282 species observed.
Meet the banding team
Manuel Olivier Grosselet, who runs the station, is a legend in North America's banding community. Since 1988, he has participated in various bird monitoring programs in Europe, North Africa, Central and North America, and been recognized by the French and Canadian governments as a specialist in bird monitoring. He has banded more than 70,000 birds in 10 countries, and personally handled about 500 species. He is a member and advisor of many birding organizations in many countries, as well as author of many publications, books and birding guides. Manuel has many plans. One of his ideas is to create an international training center for Latin American and other banders. He can be contacted through his website www.tierradeaves.com
Monroy Ojeda, second-in-command, is a Natural Resources Management Engineer, a wildlife management specialist, and a very knowledgeable and experienced bander. His international experience includes banding at Long Point, Ontario. Two biology students also assist at the station. Manuel is proud of his team. They work continuously for three seven-day weeks, having the 4th week free to see their families.
My first day
My first day of banding ended with 267 birds banded (from 10 nets in 4 hours).
Grey-necked Wood Rail
I extracted and banded two firsts for the station: Golden-winged and Chestnut-sided warblers. It was a day of 92 Yellow-breasted Chats, as well as many stunning Painted and Indigo buntings. The number of birds and variety of species was so exhilarating that 30 degree Celsius heat and tiredness passed without notice. It was an amazing learning experience. I also realized how grateful I should be for my early training with Derek Mathews at our station in Vancouver. Some other species included Mourning, Kentucky, Tennessee, Canada, Hooded, and Worm-eating warblers, Grey-cheeked Thrush, Spot-breasted Wren, Greyish Saltator, Common Ground Dove, Brown-crested and Great Crested flycatchers, Green-breasted Mango, and Black-billed Cuckoo.
Daily Routine
It's April and spring migration. The day starts at 6 am. with a short drive to the station and the opening of 10 mist nets, which almost instantly are filled with birds of many species. Nets are open from 6:30 to 10:30, so the next 4 hours are extracting and banding time with no break. Then the nets and poles have to be dismantled and packed into the truck. Arriving back at city headquarters about noon, the next hour is dedicated to computer data entry. At 2 pm the whole team goes for lunch at a local restaurant and then returns to headquarters for rest.
At 5:30 we drive back to the banding station to set up the nets, making them ready to be opened the next morning.



Spot-breasted Wren

The rest of the evening is dedicated to a survey of the surrounded marshes, one of my favorite activities. We drive and walk around the wetlands, observing flocks of Wood Stork, Ibis, and Egrets, monitoring progress at an Aplomado Falcon nest, and admiring Baltimore, Orchard, Altamira, and Yellow-tailed orioles, and many more species. It's a time for taking pictures of many interesting species, including the Laughing Falcon. According to local beliefs, his "laughing" call can forecast or ask for rain. Other observed raptors were Roadside, Common Black, and Great Black hawks, and Snail and Mississippi kites.

Golden-winged Warbler
Weekly rotating team members stays overnight in a tent, to be ready at 2 am to activate playback (sound recording of bird songs) to attract night migrants. This technique proved to be quite effective. One night we went with portable nets to capture a Spot-tailed Nightjar, and another night we photographed a Striped Owl. We return to the headquarters at 8 pm, and at 9 we walk to the restaurant for supper.

Good-bye

My short visit came to an end all too soon. It was time to say my good-byes to Manuel, his team, the friendly atmosphere, and go home. The incredible number and diversity of the bird species will remain in my heart. I'll be back for the fall migration.
I hope that the vast, beautiful marsh habitats will recover, and will turn into a bird sanctuary. Dreams are free.

Vancouver Connection

The reason I was able to get so much from my time at Manuel's station was because of the amount of experience I had previously gained from working at the Vancouver Avian Research Centre (VARC) here in Vancouver.


Aplomado Falcon

VARC is run by Master Bander and Bander-in-charge Derek Matthews. Its focus is to conduct long term, comprehensive monitoring of bird populations. Results will provide scientifically defensible strategies for avian and ecosystem conservation in Vancouver's Lower Mainland. Derek became my mentor and spent countless hours teaching me the intricacies of ageing North American song birds using molt and plumage criteria as well as honing my net extraction and bird banding skills. For me, the experience with VARC not only provided an incredible amount of knowledge about bird monitoring and banding, but also helped link together the way in which our efforts in Vancouver are inevitably linked with those at stations such as Manuel's in Mexico. Are they 'our birds' overwintering in Mexico or 'their birds' breeding here in Canada? Either way it is impossible to consider Neotropical migrant birds without understanding their fluid lives in four seasons and distant places, or the ecological intricacies they require to survive. Our combined efforts will hopefully help to ensure their survival and remind us all that we should not take them for granted.
Photographic documentation of this event can be seen at: birdsphotography.com/mexico_veracruz

Mark Habdas
April 2011
mark@birdsphotography.com